Description
Two things we need on a daily basis: water and pills. We don't want to add more years to our appearance or lose these same years from our lifespan due to dehydration, pain, and risks of diseases. The best way to remember taking them both is by getting the Pill Box Water Bottle that is specifically designed to provide both in the coolest, most convenient way.
The Pill Box Water Bottle can be a great change from your usual bottle water as it can organize your pills for the entire week and carry 20 ounces of water, juice, or any beverage you enjoy to drink regularly. The Water Bottle is lightweight, convenient, and "in style". So don't go anywhere without it, and don't forget to keep it on your nightstand by night.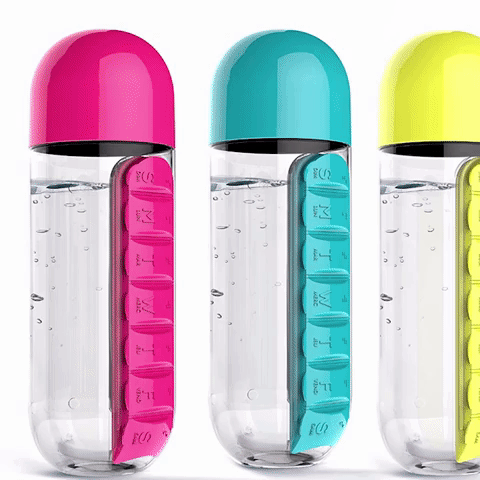 ✅ There is no smarter and easier way to keep yourself hydrated and healthy!
✅ The pillbox water bottle can keep you hydrated and remind you to take your pills.
✅ BPA-free & Premium quality water bottle to ensure your safety.
✅ Organized section pill organizer that allows you to store 7-day pills.
✅ Easy to use & simple to assemble to make refilling easy for you.
✅ Large capacity to fill your pillbox water bottle with 20 ounces of water, juice, or any beverage you enjoy drinking daily.
✅ SPECIFICATIONS
Material: PP
Color: black, red, yellow, blue, rose red
Specification: 7.5×7.5x23cm/2.95×2.95×9.05in (600ml)
Weight: 189g
✅ PACKAGE LIST
If you want to hear what others think about this product, see the
Reviews and photos
below. They're all unedited, honest reviews from real customers just like you.
/**/