Description
Everyone has been through a rough year, no one can deny that! And a fun, loud party is what everyone deserves, especially your kids. This is why you should get the Halloween Talking Pumpkin that will give everyone a night to never forget!
The Halloween Talking Pumpkin has a great collection of songs, jokes, and phrases that will cheer everyone up! There are three unique characters: traditional, spooky, and funny who are all ready to provide 70 minutes of continuous joy! All your guests from different ages will have a blast watching The Halloween Pumpkin!
Give life to your Halloween party this year by adopting this spectacular Talking Pumpkin
✅ The Halloween talking pumpkin will spice up your Halloween decoration and have more fun by having a pumpkin cracking great jokes and singing joyful songs.
✅ 3 unique characters: traditional, spooky, and funny. They all provide more than 70 minutes of fun animations.
✅ Each character has three built-in songs and forty lines of jokes to create an interesting show.
✅ Built-in speaker with High sound quality that can be perfectly heard from a distance.
✅ Volume buttons, skip button & easy control of the pumpkins, you can choose songs or jokes whenever you want, make it loud, or turn it to silent mode easily.
✅ Specifications :
Modeling category: Pumpkin
Material: Plastic
Color: Orange
Height: 16x16x16cm/6.29″x6.29″x6.29″
Weight: 500g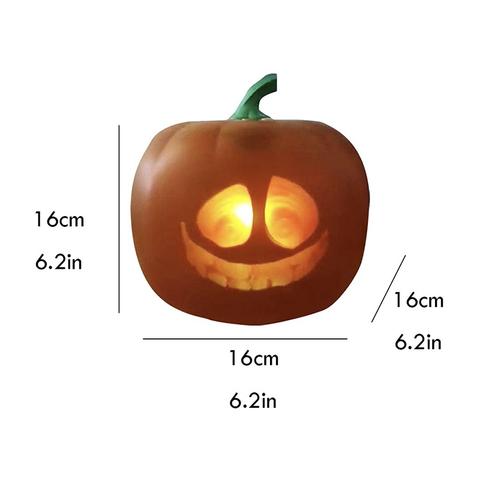 ✅ Package List :
1* Talking pumpkin
If you want to hear what others think about this product, see the
Reviews and photos
below. They're all unedited, honest reviews from real customers just like you.
/**/